And Moving Right Along....
19 - June - 2010 - 08:00
I didn't rest long after wrapping up the Panzer. I jumped right into another vehicle of the same era and same scale. This kit is a BMW R75, manufactured by Lions Roar. I'm not adding any after market parts to this one, but it comes with quite a bit of detail out of the box. It's got a variety of photo-etched parts for the wheel spokes, various engine bits and for a few other small details, like the padlocks on equipment boxes. The kit also comes with a sidecar and two versions of a little trailer.
The build was pretty straightforward, with the exception of things just being very very small. The motorcycle is the same scale as the last tank model I built, at 1/35 scale. This makes the whole bike only a few inches long. As you can see from the photos below, there is a pretty good amount of detail in the kit. Also, overall the quality of the kit modeling, while pretty good, was not quite as good as the Panzer kit (which was made by Dragon), so required a good deal more cleanup of mold seams, etc. With the parts being as tiny as they were, this cleanup occasionally resulted in broken parts. This also led me to be fairly certain that I like working on larger models :)
I'm currently working on wrapping this project up, with weathering powders, etc, but as it's not quite done, here are a few photos of the model as of last weekend. My hope for this one is to combine it with the Panzer for display, so that I can put them both on the same wooden base. This just means that I've got to be sure they generally match color-wise and look like they've been living in the same world.
Assembled in sections, engine masked for painting the body.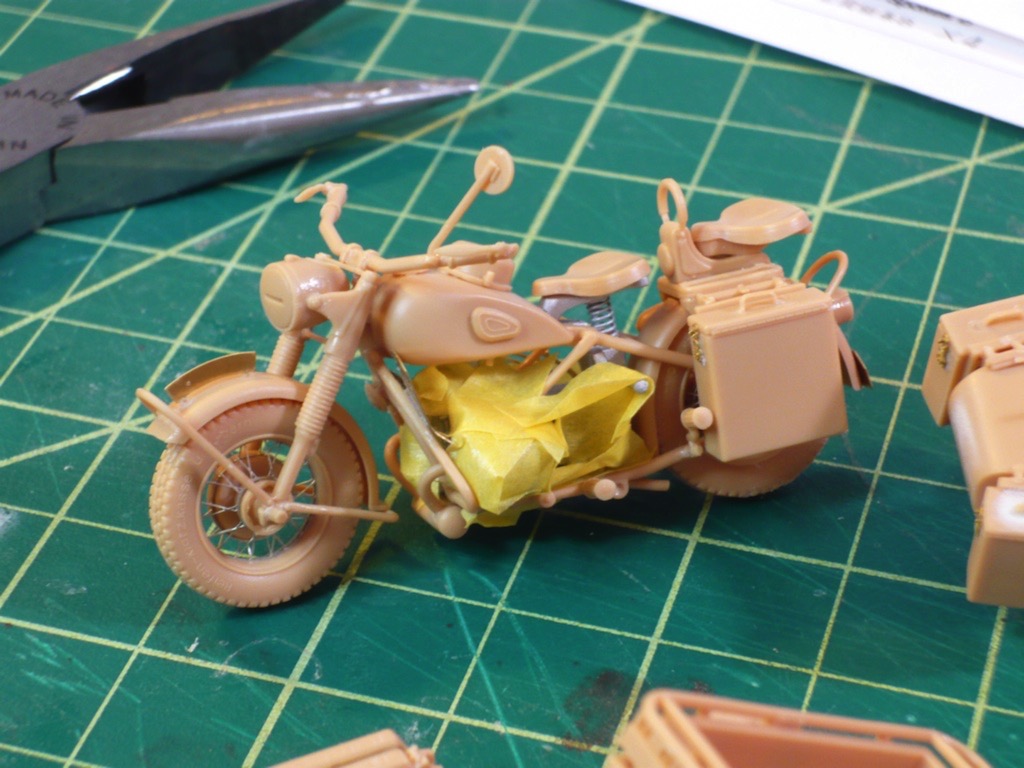 After a base coat of dark yellow.